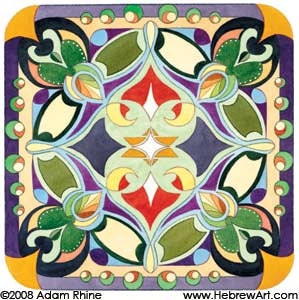 "For the Lord your G-d brings you to a good land... a land of wheat, barley, grape, fig, and pomegranate..." (Devarim/Deuteronomy 8:7)
There is so much I don't know about Judaism. Sometimes I think my knowledge couldn't fill a thimble. But then we've had over five thousand years of knowledge to accumulate. Lots to learn, lots to explore. Take the holiday of Tu B'Shevat. Not a big holiday like Passover or Rosh Hashanah. It's a tree planting holiday. Sounds good to me. Here in the southern US, we plant trees during this time of year, too.
Adam Rhine of Hebrew Art wrote this wonderful explanation of Tu B'Shevat that I just had to share.
"The 15th day of the month of Shevat commemorates the beginning of the "new year" for trees. Tu B'Shevat marks a new year for calculating the age each tree for purposes of tithing. In the Torah, fruit from trees grown in the land of Israel are prohibited from being eaten during the first three years. Fruit that grows in the fourth year is for the Lord. From the fifth year on, the fruit can be eaten." (Adam Rhine, Hebrew Art)
I feel the need to plant something.
Post by Eileen Patterson…still GoofingOff.